Curriculum Guide
Choosing a Curriculum
There is no one curriculum that meets the needs of every parish. When choosing a curriculum consider: the size of the parish, the resources available, and the goals desired. The following sites outline most available curricula for children, youth and adults which are compatible with Episcopal theology.
Curriculum Center at Building Faith, the blog of Christian formation specialist Sharon Pearson of Church Publishing
Building Faith  has a wealth of ideas and resources.
Recommended Curricula
Godly Play  a biblical based, story-telling approach to children's formation widely used in the Diocese of Bethlehem
Weaving God's Promises a thematic Episcopal curriculum for pre-school through middle school. Downloadable.
Journey to Adulthood (J2A)  a complete youth ministry program for spiritual formation for 6th -12th graders.
Lesson Plans that Work free downloadable lectionary based lessons for children, youth and adults.
Eucharist
Alleluia! Amen
A Child's Guide to the Holy Eucharist
Let Us Pray A Little Kid's Guide to the Eucharist
What We Do in Church An activity book
This Bread and This Cup a curriculum with Leader's guide and Child's guide
Teaching Resources
Animated Bible Stories
Nest Entertainment
Veggie Tales
Bible studies, small group topics for adults, teens, children
Forward Movement, pamphlets, books and study guides in the Episcopal Tradition
The Thoughtful Christian, maintained by the Presbyterian Publishing Corporation, an ecumenical site with writers from a variety of denominational affiliations.
Study Bibles
For Children
The Spark Story Bible  geared for children age 2 through early readers
Children's Illustrated Bible one of the best loved children's bibles in story form.
Children's Everyday Bible has a bible story for every day of the year. Wonderful family devotional.
The Spark Bible NRSV comes in both paper and hard bound editions, has sidebars and appendixes, and works grade 3 through middle school.
For Youth and Adults
For older youth and adults, NRSV translations with the Apocrypha.
The Life with God Bible devotional bible with expert commentary
The Access Bible includes sidebars, maps and other study aids
The New Oxford Annotated Bible the premier study bible used by scholars and students
Pew or gift Bible includes maps, but no notes or study aids
The Pocket Bible Guide an excellent, easy to use resource from LeaderResources
Education for Ministry (EfM)
EfM Overview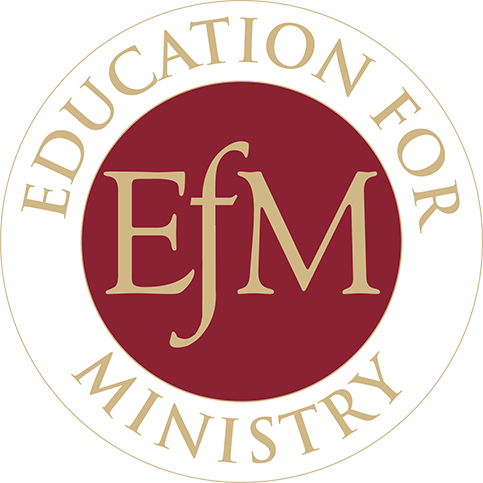 Lay persons face the difficult and often subtle task of interpreting the richness of the church's faith in a complex and confusing world. They need a theological education which supports their faith and also teaches them to express that faith in day-to-day events. As the emphasis on lay ministry has grown, EfM has come to play an important role by providing a program that develops an informed and knowledgeable laity.  All baptized Christians are called to be active participants in the church's total ministry. This TOTAL MINISTRY is nothing less than the exercise of the church's vocation to continue the ministry of Jesus. He reconciled the world to God. We are called to incarnate that reconciliation in our own time and in our own place through worship, service to others, and by proclamation of God's Word to all people.
The seminar group is the nucleus of the Education for Ministry program. A group consists of six to twelve participants and a trained mentor who meet weekly over the course of a nine-month academic year. These meetings are usually from two and a half to three hours in length.  Through study, prayer, and reflection, EfM groups move toward a new understanding of the fullness of God's kingdom.
Participants are given weekly assignments to study with the help of resource guides. Students are responsible for setting their own learning goals. They spend between two and four hours in study and preparation each week. In the seminars members have an opportunity to share their insights and discoveries as well as to discuss questions which the study materials raise for them. Through discussion and guided reflection, the seminars furnish an opportunity to deepen understanding of the reading materials.
More important is the development of skills in theological reflection. The goal is to learn to think theologically. By examining their own beliefs and their relationship to our culture and the tradition of our Christian faith, participants can learn what it means to be effective ministers in the world. In coming to terms with the notion that everything we do has potential for manifesting the love of Christ, we discover that our ministry is at hand wherever we turn.
The seminar is supported by a life of prayer and regular worship. EfM groups are encouraged to develop a pattern of worship appropriate to their situations. Liturgical materials are furnished with the course materials.
Contact
Cathy Bailey, Diocesan EfM Coordinator
Resources
Education for Ministry at Sewanee
Seasonal Resources
The Church Year
Curriculum and Resources for the Way of Love: Practices for Jesus-Centered Living
Living Compass:  meditations by the Rev. Scott Stoner, the Rt. Rev. Steven Charleston, the Rev. Nurya Love Parish, the Rev. Tom Purdy, and the Rt. Rev. Porter Taylor
Society of St. John the Evangelist:  online meditations with downloadable resources for educators, in conjunction with the Anglican Communion Office
Episcopal Relief & Development:  Advent Toolkit
Church Publishing Incorporated:  Advent Presence by Melford "Bud" Holland
Forward Movement:  "Soul Proclamations: Singing the Magnificat with Mary," meditations by Ray Suarez, the Very Rev. Kate Moorehead, the Rt. Rev. Thomas Breidenthal and others.
For Children and Families
Liturgy Training Publications:  Build Your Own Bethlehem activity book
Liturgy Training Publications: Fling Wide the Doors, 3D Advent Calendar with activities
Candle Press:  Light a Candle, Advent wreath prayers and activities
Church Publishing Incorporated:  What We Do in Advent activity book
Adult Resources
Welcome to the Church Year: An Introduction, Vicky K. Black
The Prayer Book Guide to Christian Education, Sharon Ely Pearson & Robyn Szoke, Editors
A Gracious Rain: A Devotional Commentary on the Prayers of the Church Year, Richard Schmidt
Christian Education Resources
Saints, Signs, and Symbols, Hilarie and James Cornwell
Children's Activities for the Christian Year, Delia Halverson
Rings, Kings and Butterflies: Lessons on Christian Symbols, Harriet VanderMeer
Skiturgies: Pageants, Plays, Rites and Rituals for the Church Year, downloadable, Church Publishing
Sunday Children's Bulletins, Gretchen Pritchard, The Sunday Paper: www.the-sunday-paper.com
Stevenson School for Ministry
The Stevenson School for Ministry believes that discernment is deeply important for spiritual growth. Through discernment, we explore the range of vocations (diakonia, priesthood, lay ministry) in which we as the Body of Christ can engage.  Discernment helps us learn to articulate the places where God is active in our lives through a process of listening, reflecting, and responding in circles of community.  And, actively engaging in discernment helps us to identify our gifts for ministry while discovering new learning opportunities to serve God and our neighbor. Online courses are available. View current course offerings.