2023 Post-Convention Essentials Now Available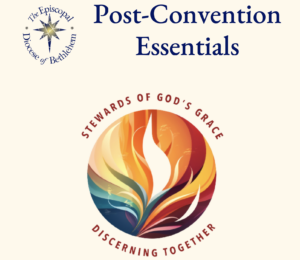 The Post-Convention Essentials report is now available for download (click here).
This report contains information about the 2023 Diocesan Convention, including resolutions, elections, and other helpful information about the upcoming year.
Welcome to the Episcopal Diocese of Bethlehem, a community of thousands of faithful people and dozens of places of worship in northeastern Pennsylvania. Whoever you are, whatever your background, and wherever you are on your faith journey, we hope that you will join us in worship and ministry.
Overview The Diocese of Bethlehem's Diocesan Convention 2023 was held October 13 & 14 in Center Valley, PA. Resolutions The following Resolutions were approved by the Diocesan Convention: 2024 Clergy Salary Schedule Budget of the Diocese of Bethlehem Closing of...
"As each has received a gift, use it to serve one another, as good stewards of God's varied grace." (I Peter 4:10) In October of 2022, the diocesan conventions of the Dioceses of Central Pennsylvania and Bethlehem agreed to "enter into a period of...
Racial Justice & Reconciliation
about The Episcopal Diocese of Bethlehem's
Racial Justice & Reconciliation Task Force.