The Diocese of Bethlehem's Racial Justice & Reconciliation Task Force hosted a Juneteenth celebration on Friday, June 19, at 3pm via Facebook live. Watch the video here
Bishop Kevin expresses his support of Kelly Brown Douglas, Stephanie Spellers, and Winnie Varghese, and encourages everyone in the diocese to read their message, "Speaking of Freedom," and reflect upon this moment.
Check back for updates from the Racial Justice and Reconciliation Task Force, as well as helpful resources and ways to get engaged.
Get Engaged
Thursdays, June 11 through July 30, from 7-8:45pm | email Canon Grandfield to register for the Zoom gatherings
Wildnerness Times
Join Canon Stephanie Spellers and Dwight Zscheile for this wonderful weekly series on what leadership – and evangelism- look like right now. The series runs from June 9 to July 14 and combines Zoom webinar, Facebook Live chat, and podcast to engage the big questions today's wilderness church must face. Learn more.
June 23, July 7, July 21, August 4 at 6:30pm | email the Rev. Bates to register for the Zoom gatherings
Resources
Meet The Team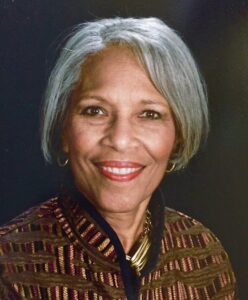 Judith Dickerson
Trinity Church of Easton, PA
"Cradle Episcopalian" raised in a predominantly white parish in Sioux City, Iowa.
College Graduate; multifaceted career as a speech therapist, corporate manager and college administrator. Active in the community in retirement.
Married to Charles Dickerson for 53 years with 2 daughters and 3 grandchildren.
Committed to expanding the circle of people committed to eradicating individual and systemic racism in the church with focus on making the role of the Church central in doing so.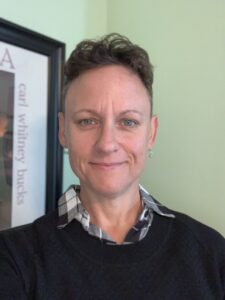 Melissa Amator
Trinity Church Easton, PA
My name is Melissa Amator and my wife and I are members of Trinity Church in Easton. I serve on the Racial Justice and Reconciliation Task Force because I believe that we place our hopes for racial justice in our committed action in the presence of God and our neighbor. Because to love one another as God has commanded means to work for equality in every social arena – including the Church – and to speak out against injustice as we deliberately dismantle systems of unearned privilege, including the myth of white supremacy, in order that we may more fully live out Christ's kingdom here on earth.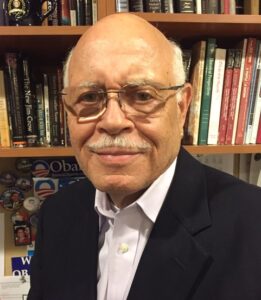 Charles W Dickerson
Trinity Church Easton, PA
Born in Omaha, Nebraska and graduated from Penn State University, post graduate work at University of Wisconsin, Iowa State and University of Illinois. Served as a naval officer from 1963- 1970 in various positions on board the USS Springfield (CLG 7) and staff of Commander Sixth Fleet in the Mediterranean Sea. Worked 30 years for AT&T in various management positions. Taught as an Adjunct Professor of 20th century American History and African American History for 15 years. Married to Judith Dickerson for 53 years with 2 daughters and 3 grandchildren. God's call to me is to lend my support and experience to work with a church group to eradicate racism, implement racial reconciliation, and to help bridge the racial divide in the Episcopal Church.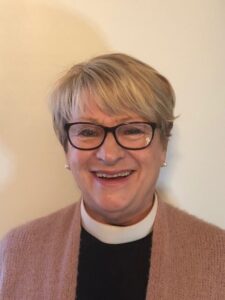 Rev. Christine Sutton
Prince of Peace, Dallas
Chris Sutton, deacon at Prince of Peace Church in Dallas, Luzerne County. My belief is that life is not a spectator sport, we are called to be involved and to participate fully. During this last year or two, I felt a stronger pull towards social justice and racial reconciliation in our communities and country. I was not sure of how and what I might do to make a difference. Upon receiving an invitation to be part of the Diobeth Task Force, I knew the timing and opportunity was right. Together, we can do much more to serve the Kingdom of God. So faith by itself, if it has no works, is dead. James 2:17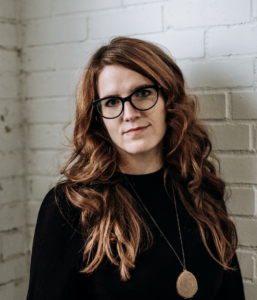 Meg Fox
Mediator, Allentown
Meg Fox is the Coordinator at the Refugee Community Center at Church of the Mediator. She is passionate about celebrating the beauty of all people as they were lovingly created by God.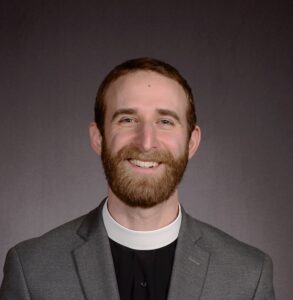 Rev. Andrew VanBuren
St. Gabriel's, Douglassville
The Rev. Andrew VanBuren serves as the Priest-in-Charge of St. Gabriel's in Douglassville. Originally from Ohio, Andrew attended seminary at Colgate Rochester Crozer Divinity School in Rochester, New York, a multi-denominational seminary focused on racial justice, ecumenical cooperation, and the prophetic call of the Gospel. Andrew lives with his wife Becca in Douglassville, and he is excited to serve on this task force.