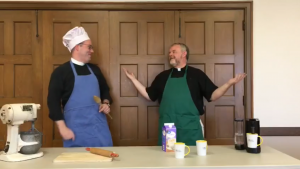 Morning commuters traveling on Wyandotte Street outside the Cathedral Church of the Nativity received a pleasant surprise on November 1: free cookies, coffee, and a reminder of God's love.
Early that Friday morning, the Very Rev. Tony Pompa, Dean of the Cathedral, and the Rev. Canon Dale Grandfield, Canon Missioner, handed out cups of coffee and packs of cookies to anyone stopped at the red light on the corner of Wyandotte and 3rd Avenue. Included with the morning refreshments was a card which read "God loves you. We do too. Remember someone you love," as well as a prayer to celebrate All Saints' Day.
"The idea came to me, building on the concept of ashes to go. That there are other times of the year when go out and we remind people that God is present in their lives," said Grandfield.
Commuters were appreciative of the morning pick-me-up.
"They would say 'Thank you so much. This is so sweet,'" said Grandfield. "They were just delighted."

All Saints was not the first time the pair built an event around cookies and coffee. Now dubbed, "Cookie Canon" and "Barista Dean", Grandfield and Pompa held a similar event at the Cathedral's Kickoff Sunday. Falling early to mid-September, Kickoff Sunday is the first Sunday of the program year, when Sunday School and other formation opportunities restart after a summer hiatus. The event was extremely popular, and the promotional Facebook video received thousands of views.
"We wanted to get people excited about being there, and to just be hospitable and engage with people," said Grandfield.
Fueled by the recent call of their new Canon Missioner, the people of the Cathedral have been making a concerted effort to reach out more to their surrounding neighborhood. In an interview held during Diocesan Convention, Grandfield described an event held in September, when a group from the Cathedral walked the SouthSide neighborhood to learn more about the people in the community.
"I'm exploring a lot, and just trying to find my way and help the Cathedral find their way," said Grandfield.
When asked what the Cathedral has planned for the future, Grandfield, who holds a degree in Spanish and speaks the language, says that the Cathedral plans on offering more worship opportunities in Spanish and figuring out how they can work towards social justice in their area.
"If we can make one step in the right direction, then I will have done what I'm called here to do," said Grandfield. "I don't have a grand plan, a grand strategy…I'm just following. Jesus has the plan."
If you would like to speak to the Rev. Dale Grandfield, Canon Missioner at the Cathedral, he can be reached via email or by calling the Cathedral.