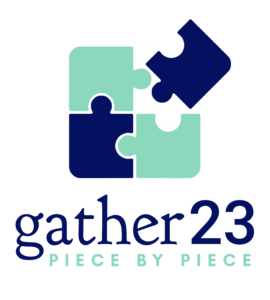 Gather 23 – Piece by Piece
Overview
Gather is the Diocese of Bethlehem's annual formation event. Piece by Piece is the theme for the 2023 event.
Date
May 20, 2023
Registration
Coming soon
Location
Split Rock Resort (428 Moseywood Road, Lake Harmony, PA 18624)
Keynote Speakers
Rev. Dr. Patricia "Tricia" Lyons, an affiliated faculty member and the Senior Advisor to the Dean for Evangelism Initiatives at Virginia Theological Seminary
Dr. Elisabeth "Lisa" Kimball, Vice President for Lifelong Learning and the James Maxwell Professor Chair of Lifelong Christian Formation at Virginia Theological Seminary.
Schedule
| | | | |
| --- | --- | --- | --- |
| Start | End | Event | Presenter |
| 8:00 a.m. | 8:45 a.m. | Registration | Diocesan Staff |
| 9:00 a.m. | 9:10 a.m. | Opening Welcome | The Rt. Rev. Kevin D. Nichols |
| 9:10 a.m. | 10:00 a.m. | First Keynote | The Dr. Patricia Lyons |
| 10:15 a.m. | 11:00 a.m. | Session 1 | Various facilitators |
| 11:15 a.m. | 12:00 p.m. | Session 2 | Various facilitators |
| 12:10 p.m. | 12:15 p.m. | Lunch blessing | The Rev. Canon Barbara Harrison Seward |
| 12:15 p.m. | 1:00 p.m. | Lunch | Diocesan Staff |
| 1:10 p.m. | 2:00 p.m. | Second Keynote | Dr. Elisabeth M. Kimball |
| 2:15 p.m. | 3:00 p.m. | Session 3 | Various facilitators |
| 3:15 p.m. | 4:00 p.m. | Session 4 | Various facilitators |
| 4:15 p.m. | 4:35 p.m. | Bishop's Address | The Rt. Rev. Kevin D. Nichols |
| 4:35 p.m. | 5:30 p.m. | Closing Worship | |
Sessions
Coming soon