LGBT Center of Greater Reading Opens Lebanon Satellite Location at St. Luke's Episcopal Church
LEBANON, PA – The LGBT Center of Greater Reading has opened a Lebanon satellite location at St. Luke's Episcopal Church at 22 South 6th Street in Lebanon city. The Lebanon location is offering a variety of affirming LGBTQ+ counseling and therapy services for individuals (adolescents and adults), couples, families, and small groups. These services are offered at low or no cost to clients. Services are rendered by masters-level interns under supervision of licensed counselors.  Services are offered by appointment only.  To learn more or to make an appointment, call 610-927-5531 or email counseling@lgbtcenterofreading.com. Additionally, they will be providing youth programming through a support/social group called VOICES for those 12-17.
The opening of the Center is the culmination of more than a year of planning by a community coalition that includes St. Luke's, SARCC, The Lebanon Community Health Council, the Chestnut Street Community Center, and others. The goal of this coalition has been to build a safer and more affirming environment for Lebanon County's LGBTQ+ Community.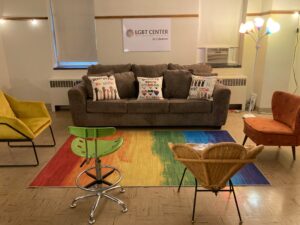 "We are incredibly excited to offer services to the Lebanon LGBTQ+ community at our newest location," said Michelle Dech, Executive Director of The LGBT Center of Greater Reading. "We are enormously grateful to the Lebanon-based organizations that have invited and helped us open this new location. This will be a great addition to ongoing efforts to build a more supportive community for Lebanon's LGBTQ+ residents."
The LGBT Center of Greater Reading is a leading provider of support services that include counseling, care coordination, support groups, training/education and more for LGBTQ+ individuals and allies. The Center is always in search of motivated and enthusiastic people to help achieve their mission. To learn more visit: https://www.lgbtcenterofreading.com
St. Luke's Episcopal Church is an open and affirming congregation. St. Luke's affirms the full inclusion of gay, lesbian, bisexual, transgender and non-binary persons and those who love them in our church's life and ministry; supporting their relationships, and advocating for their basic human rights.